END MILL
Our tool program for all milling tasks allows quick assignment by color coding. Series are suitable for universal or special machining tasks in the automotive, aerospace, mechanical engineering, tool and mold making industries.
DENTAL TOOLS
The CAD/CAM tools fit all dental milling machines and stand for precision in the processing of zirconium oxide, titanium, PMMA, wax, gypsum and glass ceramics. For optimal cobalt-chrome milling, we developed our own speed milling cutters.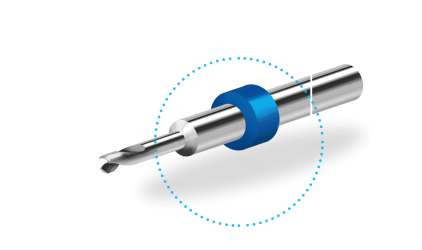 SUSTAINABILITY CREATED BY ATTITUDE.
We are convinced that we must give back to nature what we take from it. In all production areas, we pay attention to processes that are as climate- and environmentally friendly as possible. We only use electricity generated from Norwegian hydropower as our energy source; we use waste heat for heating and cooling via heat pumps.
SPECIAL TOOLS
Complex tasks and exclusive materials often require special designs. We advise you in detail, plan and develop special tools - and manufacture them for you with our own in-house capacities. Even small series are cost-effective. OEM TOOLS
We manufacture top-quality tools for your product portfolio, which you market under your own name. We support you in marketing with a range of individual, product-related services - from packaging and shipping to corporate design.
" OUR QUEST FOR PERFECTION IS NOURISHED BY TRADITION IN CRAFTSMANSHIP AND INDUSTRIAL PROGRESS. OUR GOAL IS A TOOL THAT CREATES THE PERFECT SOLUTION FOR OUR CUSTOMERS."
Tobias Zikoll – Managing Director