RESPONSIBILITY IS
CORE BUSINESS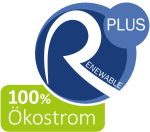 We are convinced that every form of economic activity is also a call to act responsibly. Only if we permanently take less from nature than it can regenerate can we safeguard our livelihoods and ultimately also preserve our society. No one can be released from this responsibility - especially not companies.
That is why at ibb, we analyzed our company processes for climate and environmental compatibility - in production, procurement, shipping and administration. Our goal is to use all potential within the scope of operational possibilities that make sustainable management possible.
Because our production is based on electrical energy, we switched to electricity from renewable sources some time ago: The RenewablePLUS label is a proof of origin for green electricity. It is audited and certified annually by TÜV Rheinland.
ADVANTAGES OF RENEWABLEPLUS AT A GLANCE
#
100 % CLIMATE NEUTRAL
All CO2 emissions generated during construction and operation of power plants are neutralized by means of emission reduction certificates. These certificates come from sustainable climate protection projects that meet the strict requirements of the ÖkoPLUS label certified by TÜV Rheinland.
#
TRANSPARENCY & SECURITY
The certified green power quality of the RenewablePLUS label is ensured by internationally recognized Guarantees of Origin, which prevent double marketing and reliably and transparently document the origin of renewable energies as well as the ecological properties of the power. In Germany, this is done via the Federal Environment Agency's register of guarantees of origin.
#
MONTHLY CONTEMPORANEITY
The criteria for the green electricity label tie the creation of the certificate of origin to a forecast for the electricity consumer's demand. The RenewablePLUS certificate specifies both the amount of electricity required and the period of demand. Offsetting takes place on a monthly basis: it is regularly noted when the respective guarantees of origin were generated, and the quantity of electricity linked to them was produced. This promotes continuous electricity generation.
FORWARD THINKING
"FOR US, ECOLOGICAL AND ECONOMIC SUSTAINABILITY ARE NOT CONTRADICTORY: WELL THOUGHT-OUT MEASURES ACHIEVE BOTH."
Tobias Zikoll, Managing Director
As electricity used in production generates process heat, we use it to heat the entire building. As a result, we are completely independent of fossil fuels and their price trends.
We also concluded agreements to make our shipments 100 percent climate-neutral. Deliveries are offset by contractually guaranteed compensation measures relating to climate protection. We also participate in selected climate projects ourselves.
Saving on auxiliary and operating materials rounds off our concept. For example, we minimize the need for oil changes through consistent filtering and recovery of the lubricants used.
RESOURCE CONSERVATION
Through renewable energy sources for electricity generation
(hydropower from Norway)
COMPENSATION MEASURES
For unavoidable non-sustainable activities
(reforestation, renaturation, biosphere conservation)
CIRCULAR ECONOMY
In-house and shipping
(recyclability and multiple use)
DELIVERY CONCEPT WITHOUT CARBON FOOTPRINT
Starting mid-2022, we introduced a delivery concept at ibb that supplements our already climate-neutral transport by using resource- and waste-saving packaging: All delivery materials consist exclusively of FSC-certified cardboard. We thus ensure that 100 percent of the packaging enters into recycling of paper materials. Where possible, we make sure to use paper with low levels of fresh fiber and a high proportion of recycled and alternative materials such as grass.
We developed our own new three-part protective sleeves for our dental tools; they replace plastic sleeves, which we consider unsustainable given the single-use system. Similarly, we completely replaced filling materials, packing tapes and shipping containers with paper-based materials. This eliminates any sorting; packaging goes directly to recycling. Established processes ensure a very good overall ecological balance in this regard.
RETHOUGHT:
A PROTECTIVE COVER
MADE OF CARDBOARD
Because cardboard has different properties than plastic, we completely redesigned the architecture of our packaging. The protective cover consists of three parts: One holds the sensitive tool, the second fixes and stabilizes it. The outer packaging as the third element reinforces impact resistance and carries the information for the user.
It was important to us to be in charge of developing the packaging ourselves, because when it comes to important issues, we like to deal with the problem down to the last detail and appreciate any learning effects. We are only satisfied when the solution fits our requirements perfectly - just as it is with our tools.
INEXHAUSTIBLE SOURCE
OF ENERGY
Sustainable energy supply made by ibb: Solar energy underlines our commitment to the environment. To further intensify our commitment to a sustainable future, we have now decided to integrate solar energy as another inexhaustible source of energy.

The cleanliness of solar energy is unbeatable: Compared to fossil fuels, which are responsible for a large part of global CO2 emissions, solar energy has no negative impact on the environment, making it the perfect complement to our existing sustainability strategy.

By using modern solar systems, we can now generate a significant proportion of our energy supply from renewable sources. For everything that we cannot yet supply through solar energy, we rely on green electricity from renewable sources. This gives us a holistic, climate-friendly energy supply! We are proud that we now also rely on solar energy and thus take another step towards a sustainable energy supply.
TOGETHER WE ACHIEVE MORE
Sustainability is an investment in the future. Just how close that future is, is made clear to us not only by global warming, but also by the increasing scarcity of key resources and the new fragility of supply chains. We are working with customers and suppliers to create a new stability that puts resource-conserving business practices at the center.
CONTACT
Do you have any questions about our sustainability strategy? We are happy to engage in a dialog with you about how we can become even better together.